Taraknath Das Foundation
The Taraknath Foundation was dissolved in Spring 2021 and will no longer accept fellowship applications.
The Taraknath Das Foundation
by Leonard A. Gordon, Director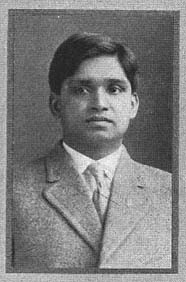 Taraknath Das came to the United States as a poor student around 1905 from Calcutta. He had a revolutionary interest in freeing India from the British Raj. At first he attended the Vermont Military Academy, but was expelled for his anti-British sentiments. He became involved with the Ghadr Party in California and with German diplomats during World War I. Both of these groups had an interest in undermining the British Empire. Once the United States entered the Great War on the side of Britain and the British Empire, the plotting Indians and Germans were arrested and tried in California in 1917. This came to be called the Hindu Conspiracy Case. Taraknath Das was one of those convicted and served about one and a half years in a federal prison. Upon release, he turned to more peaceful pursuits than the attempt to smuggle arms into India. He lived from 1884 to 1958 and was a pioneer of the South Asian community in the U.S. In the pre-1965 era, this community was small and from 1924 to 1946 none of them could become U.S. citizens. Dr. Das belonged to both India and to the U.S. and obtained U.S. citizenship around the beginning of the First World War which the U.S. government later tried to take away from him because he was a convicted felon and suspected because of his great hostility to the British Empire. He fought to retain his American citizenship and succeeded.
He linked India and America, informing each about the other, writing often for the "Modern Review"of Calcutta and other periodicals about world affairs, speaking and teaching in the U.S. and Europe as well. He earned a Ph.D. degree from the University of Washington in political science. As one concerned with his two countries, he was particularly engaged by the fate of his motherland which for most of his life was ruled by the British. After India was free, he returned to visit, felt somewhat disillusioned by what he found, and then came back to the U.S. which was now his home.
He had long been concerned with the difficulties of Indian students abroad. That is the primary reason why he started the Foundation in the 1930's. At first he took the money out of his own pocket to help some struggling Indians whom he encountered. Gradually this aid project became institutionalized. When I joined the foundation as a trustee in the early 1980s, Dr. Das had been dead for about 25 years and Kathryn Linden was the director. I, along with other trustees, read the few applications we received and awarded modest grants as we were able.
That is the work that the Foundation continues today, but the costs of higher education and graduate studies have risen so much that they are out of all proportion to the help we can provide. But even this small assistance is gratefully accepted by those to whom it is given. The funds of the foundation were increased in the 1980s when Kathryn Linden, Felixs Gross, and I negotiated the transfer of the life trust which Dr. Das had left for his niece, Nilima, to the foundation. Even so, this remains a small foundation. With the computerization of lists and the circulation of these lists far and wide, we now receive many more letters and applications than ever before. The modest student grants are presently limited to Indian graduate students studying in the United States, who have completed or are about to complete one year of graduate work, and are working towards a degree. The competition for these grants, usually three or four or five per year, is fierce and the awardees are excellent and deserving.
There are Taraknath Das funds at about a dozen universities around the country: he wanted them to have India-related activities. Only the fund at Columbia University, called the Mary Keatinge Das Fund, has a fairly significant amount of money in it and the income is used to fund lectures and conferences on India. We make small contributions to the funds at other universities which have only a few thousand dollars each. These funds are at: the University of Pittsburgh, N.Y.U., the University of Washington, the University of Virginia, Howard University, Yale University, the University of Chicago, the University of Michigan, the University of Wisconsin, American University, and the University of Hawaii at Manoa.
The Foundation also supports the Taraknath Das Research Centre at Jadavpur University in Calcutta. Dr. Das had a special attachment to this university which was created at the time of the Swadeshi movement in the early twentieth century. The Centre collects newspapers and magazines and these are clipped topically on subjects of national and international interest. These topical files from 1958 to the present have been of great value to students of international relations and Indian affairs at Jadavpur. The university itself also contributes in the form of the salary of the administrative officer of the Centre.
We recently began giving modest scholarships at Hanoi University after I visited there in 1993. Since the Government of Vietnam ended free tuition, it has been harder for poor students to attend who do not have scholarships. With a very modest grant of funds, we have been able to help some Vietnamese students gain access to higher education. Dr. Das had a broad interest in all of Asia, so the trustees decided that giving this grant was within our mandate. In the past few years, at the behest of our Past President, Dr. Felixs Gross, we have been giving grants to small non-profit organizations in India which are working for justice and equality. These include women's organizations and those helping the poorest within Indian society. Several trustees travel to India regularly and keep us informed about appropriate organizations.
Finally, for about 15 years now the Taraknath Das Foundation has been giving an award to a person or persons who or an institution which has contributed to understanding between India and America. This award was begun by Kathryn Linden and continues today. The trustees, and occasionally outsiders, nominate candidates, and, if the candidate is agreeable, we work out the practical details and hold the annual award function. The list of awardees is as follows:
1982: R. K. Narayan, writer
1983: Robert F. Goheen, diplomat
1984: A. K. Ramanujan, poet, translator, scholar, teacher
1985: Edward C. Dimock, Jr., scholar, translator, teacher
1986: Ismail Merchant, James Ivory, Ruth Prawer Jhabvala, film-makers
1987: S. Chandrasekhar, scientist, teacher
1988: Stella Kramrisch, art historian, teacher
1989: Anita Desai, writer
1991: World Music Institute
1992: Indrani, dancer and dance teacher
1993: Madhur Jaffrey, actress, author
1994: Bernard S. Cohn, anthropologist, scholar, teacher
1995: Phillips Talbot, journalist, diplomat
1996: Amar G. Bose, audio-engineer, teacher, businessman
1997: Myron Weiner, political scientist, scholar, teacher
1998: Tanjore Viswanathan, musician, teacher
1999: Ainslie T. Embree, historian, teacher, administrator
2000: Bharati Mukherjee, writer
2001: Selig Harrison, scholar, journalist
2002: Abraham Verghese, doctor, writer
2003: Joseph Elder, scholar, administrator, film maker
2004: Sakhi for South Asian Women
2006: Gopal Raju, publisher of "India Abroad"
2008: The American Institute of Indian Studies
2012: Siddhartha Mukherjee, oncologist, writer, researcher and professor of medicine
2015: Sree Sreenivasan and the South Asia Journalists Association
2019:  Zarina Hashmi