Past Event
"Labor of Love: Performance and Politics in the South Asian Diaspora"
Image Carousel with 2 slides
A carousel is a rotating set of images. Use the previous and next buttons to change the displayed slide
Slide 1: "Labor of Love: Performance and Politics in the South Asian Diaspora"

Slide 2: "Labor of Love: Performance and Politics in the South Asian Diaspora"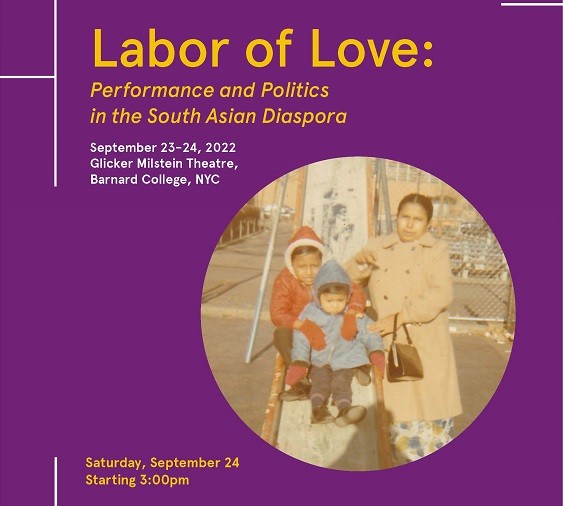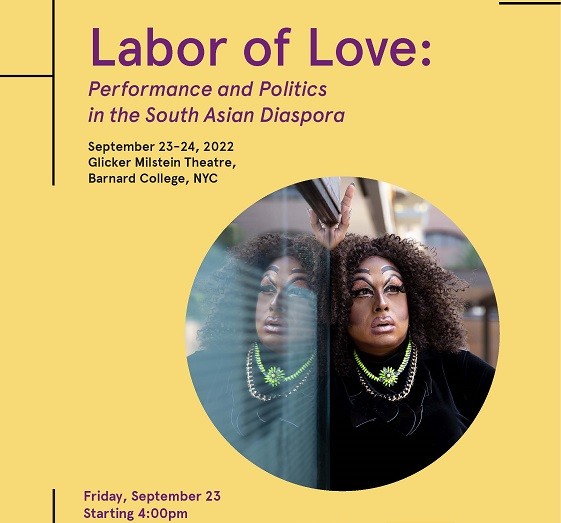 Previous
Next
September 23, 2022 - September 24, 2022
4:00 PM - 8:30 PM
Event time is displayed in your time zone.
Friday-Saturday, September 23-24, 2022
A Symposium at Barnard College,
"Labor of Love: Performance and Politics in the South Asian Diaspora"
Symposium website:   https://theatre.barnard.edu/laboroflove
"Labor of Love," a weekend symposium that is a collaboration between three institutions, asks the question – what is the work of the immigrant? What physical, intellectual or sexual labor must they perform to signal belonging? How do they bridge the distance between home and location as a function of opportunity? Bringing together artists and scholars, we offer this exploration of contemporary South Asian immigrant identity as embodied practice. In shaping our mediations through the lens of work, we fundamentally frame our understanding of the immigrant as aspirational. Rather than the exceptional successes that perpetuate the idea of a model minority, might we shift the perception and position of the South Asian Immigrant as a series of struggles, and sometimes failures, that point to a contingent rather than idealized identity, one constantly being reworked and in the process of becoming?
Collaborators:
Arnab Banerji, Associate Professor of Theatre History, Loyola Marymount College
Neilesh Bose, Associate Professor and Canada Research Chair, University of Victoria
Shayoni Mitra, Senior Lecturer, Department of Theatre, Barnard College, Columbia University
Co-sponsored by the South Asia Institute
Location:  Glicker Milstein Theatre, The Diana Center, Barnard College
Directions: https://barnard.edu/visit/campus-map
Schedule
Friday, September 23:  4:00pm – 8:30pm
4:00-4:45:  Curated Panel: "Sexual Labor of South Asia"
Invited Speaker: Shahana Hanif, NYC Council Member district 39
5:00-6:00:  Excerpts from the film, Shikhandi with Suman Mukhopadhyay
6:30-8:30: LaWhore Vagistan and Aunty Ishtyle, Performed by Kareem Khubchandan (Tufts)
Saturday September 24, 3:00pm – 8:30pm
3:00-3:45: Curated Panel: "Organized Labor and the Informal Sector: Taxi Workers and Deliveristas"
Invited Speaker: Zohran Mamdani, NYC Assembly District 36
4:00-5:00: Performance: Excerpts from Dishwasher Dreams
Written and performed by Alaudin Ullah, comedian and playwright
5:15-6:00:  Excerpt from Halal Brothers, with Suman Mukhopadhyay
6:30-8:00: Performance, Dhaka Drama, Voices of Jackson Heights
8:00-8:30: Closing reflections
Participant Bios
Arnab Banerji is Associate Professor of Theatre History at Loyola Marymount college. He received his B.A. and M.A. in English Literature from Jadavpur University, Kolkata, and his Ph.D. in Theatre and Performance Studies from the University of Georgia in 2014 where he wrote a dissertation on the Bengali Group theatre in Kolkata. Arnab spent the 2014-2015 academic year as the ASIANetwork Luce Foundation Postdoctoral Teaching Fellow at Muhlenberg College where he offered introductory and advanced courses on Asian Performance. Arnab's research and reviews have appeared in Asian Theatre Journal, Theatre Journal, TDR, and South Eastern Review of Asian Studies. His monograph Contemporary Group Theatre in Kolkata, India was published in the Advances in Theatre and Performance Studies series by Routledge in 2020.
Neilesh Bose is Associate Professor and Canada Research Chair at University of Victoria. His research and teaching interests include the history of modern South Asia (the Indian subcontinent), the British Empire, decolonization, and the history of migrations, as well as interests in theater, performance studies, and popular culture. His first book examined the intersections between linguistic identity and Muslim religious community formation in late colonial Bengal. Neilesh has two ongoing  book projects. One explores the history of religious reform in nineteenth century colonial India and its relationship to comparative religion and the history of secularism. The other is a biography of an anti-colonial itinerant nationalist active in the U.S., Canada, and various parts of the world in the early twentieth century. He earned his PhD in South Asian history at Tufts University in 2009 and has taught at the University of North Texas in Denton, TX, and St. John's University in Queens, and was a visiting faculty member at Queens College (CUNY) and at Ashoka University.
Shahana Hanif is an activist, community organizer, and the Council Member for Brooklyn's 39th District in the New York City Council. She was born and raised in Brooklyn and is the daughter of Bangladeshi Muslim immigrants. Hanif is a product of NYC public schools and Brooklyn College. Most recently she served as the Director of Organizing and Community Engagement in Council Member Brad Lander's office where she led grassroots initiatives like Participatory Budgeting, a process that gives NYers a say in how to spend City dollars in their neighborhoods. Sworn in on January 2022, she is the first Muslim woman elected to New York City Council and the first woman Council Member for the 39th District.
Kareem Khubchandani (any pronouns) is the Mellon Bridge Assistant Professor of Theatre, Dance, and Performance Studies, and Women's, Gender, and Sexuality Studies at Tufts University. He is affiliated with the Department of Studies in Race, Colonialism, and Diaspora. He is the author of Ishtyle: Accenting Gay Indian Nightlife (2020), which received the 2019 Center for LGBTQ Studies Fellowship award and the 2021 ATHE Outstanding Book Award.  Kareem is co-editor of Queer Nightlife (University of Michigan Press) and curator of www.criticalauntystudies.com. He holds a Ph.D. in Performance Studies from Northwestern University, and previously served as the inaugural Embrey Foundation Postdoctoral Fellow at the Center for Women's and Gender Studies at the University of Texas at Austin.
Zohran Mamdani was born and raised in Kampala, Uganda, moving to New York City with his family at the age of 7. A graduate of the Bronx High School of Science, he received a Bachelor's Degree in Africana Studies from Bowdoin College. A few years later in 2018, he became naturalized as an American citizen.  Zohran is the first South Asian man to serve in the NYS Assembly as well as the first Ugandan and only the third Muslim to ever be a member of the body.
Shayoni Mitra is a senior lecturer at the Department of Theatre at Barnard College at Columbia University. Her research focuses on political performances, particularly through a transnational lens. She teaches courses on performance theory, gender theory, Asian performance and postcolonial drama. She has published in various peer-reviewed academic journals like the TDR, ATJ, CSAAME, and the EPW. She served as South Asian area editor of the Asian Theatre Journal from 2013-2020, and served on the Executive Council of the American Society for Theatre Research from 2018-2021. She is currently co-chair of the Commission of the Status of Women at Columbia University. She received her PhD in Performance Studies from New York University, and Masters and Bachelors in English Literature from St. Stephen's College, Delhi University.
Suman Mukhopadhyay is a Fullbright Fellow at Columbia University in 2022, and a film and theatre director. He has directed seven full-length feature films: Nazarband (Captive, 2020), Asamapta (Incomplete, 2017), Shesher Kobita (The Last Poem, 2014), Kangal Malsat (War Cry of the Beggars, 2013), [email protected] (2009), Chaturanga (Four Chapters, 2008) and Herbert (2005) which won the National Award for Best Regional Film, Indian National Awards. He has participated in many national and international film festivals. His latest film Nazarband was an the official selection at the Busan International Film Festival 2020.
Mukhopadhyay has done theatre productions ranging from European drama to major adaptations of Bengali works, and was affiliated with the Bengalitheatre Group Chetana. His many works include Raja Lear, Sunyo Sudhu Sunyo Noy, Bisarjan, Teest Paarer Brittanto and Samay Asamayer Brittanto, adapted from the novels by Debesh Roy and Mephisto, based on Klaus Mann's German novel. He has staged Rabindranath Tagore's Raktakarabi; Falguni-Prelude, Shakespeare/Brecht's Coriolanus and Śūdraka's The Little Clay Cart. He directed The Man of the Heart (Life and times of Lalon Fokir) at the University of California, Berkeley and at the  Barbican Centre, London; and Girish Karnad's Nagamandala at the Department of Theatre, Kalamazoo College, Michigan.
Alaudin Ulah was a trailblazer for the past two decades as one of the first South Asian comedians featured Nationally on HBO, MTV, BET, PBS, and Comedy Central. Alaudin is dedicated to creating stories and characters that counter, challenge, and correct, the misperception of South Asians and Muslims. As a member of the Public Theater's Inaugural Emerging writers group, he wrote plays about Harlem and Bangladesh. He workshopped and/or produced those writings at The Public Theater, New York Theater Workshop, Lark Play Development Center, Schomberg Center For Research in Black Culture, LAByrinth Theater Company, New Federal, Cape Cod Theater Fest, and in Chicago (at Silk Road and Victory Gardens). As an actor, he performed his solo show, Dishwasher Dreams, at New York's Castillo Theater (Fall 2018). In film, he co-starred in American Desi, and did several voices in the award-winning, animated Sita Sings the Blues. On television, he was featured in Uncle Morty's Dub Shack (IATV). Vivek Bald's book, Bengali Harlem, was inspired by Alaudin's plays and his family's journey to America. He will be co-directing the documentary of the same name that will air next year on PBS (bengaliharlem.com).